Congratulations to Phil Taylor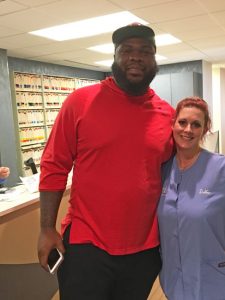 We're so proud of our patient and former Cleveland Brown/NFL first round draft choice Phil Taylor.  After getting married this Summer, sporting a wonderful smile, he's now training with his hometown Washington Redskins, where he's had a very promising camp.  He's coming back after a couple of knee surgeries and is looking to rebound as the 'Skins starting nose-tackle. This article from the Washington Post covers the latest on Phil Taylor.
We're rooting for you Phil!!!